Weight Loss – 6 Tips For Staying Motivated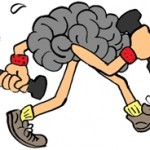 Staying positive throughout the weight loss journey can be hard. A few setbacks and you may be ready to abandon the program. Staying confident throughout your weight loss journey requires focus on the goal and positive thinking – but what do you do when you're feeling less than positive about your efforts?
Use these tips to help you stay positive:
1. Write Down Your Reasons:
List your reasons for deciding to get fit. Whether it's for health reasons, or merely to be able to fit into your favorite clothes again – write it down.
Then make quite a few copies of the list, and lay them where you'll be able to see them frequently. Keeping your goals visible will help you remember why you're working so hard in the first place.
2. Never Say Diet:
Don't use the word diet if you can possibly elude it. This brings up images of deprivation, and you end up feeling sorry for yourself. Instead, tell yourself (and others) that you're not on a diet, but that you are trying to make better lifestyle choices.
3. Don't Use the 3 letter "F" Word:
Avoid using the word fat when describing yourself. This includes your judgment. Thinking about how fat you are and how bad you feel you look will only bring you down and stress you out. Stress often equals eating another bag of cookies.
4. Use Positive Adjectives:
Instead, use another adjective that you prefer. Heavy, voluptuous, overweight – these all have nicer connotations than "fat" and will help you to imagine yourself in a more positive way.
5. Think about the Positive:
Think about all the things you like about your body, as well. If you have great hair, for example, concentrate on that as you attempt to lose weight. This takes the focus off of the body parts you dislike, and helps to get rid of the stress.
6. Find a Role Model:
Instead of focusing on tv stars that are thin, find a celebrity that is larger and appealing, or one that is challenged with weight loss. This may help you to choose a realistic role model.
Positive body image can be tough to find when you're struggling to lose weight. Focusing on your positive mental and physical traits will help you to be comfortable in your body.
This permits you to work towards better health, instead of simply working to be thinner. Overall, this is a much healthier tactic to weight loss, and will help you stay motivated throughout the process.
This article is for informational purposes only. It is not medical advice, nor should it be interpreted or substituted as medical advice. Prior to making changes to your physical exercise routine and your diet, you should always consult your personal physician. Better safe than sorry.
About the Author: Rod Watson, Certified Personal Trainer, http://WatsonPersonalTraining.com, Rod is a retired Navy Officer who is dedicated to help other improve their health and fitness level. Need help getting started contact Rod at rod@TailoredWorkouts.com for a customized workout, tailored just for you.